Katy Youth Football® is a 35 Year Katy Tradition!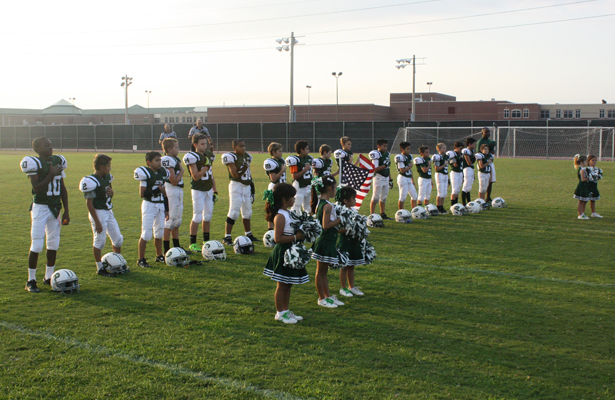 Join the league that has been "Doin' It For The Kids" for over 35 years in the Katy and surrounding communities with participation rates as high as 2,700 children per season. KYF filters local youth to Katy high schools and onto State Championships! We strive to set a solid foundation of sportsmanship, football fundamentals and lifelong friends. In Katy, the building of state champions starts early – right here at KYF!
KYF works closely with KISD Athletics to provide players the advantage required on future Junior High and High School teams. Don't miss out on a chance to play football for your schools team. Register online today and find out why KYF is the absolute Best!
KYF® partners with USA Football to provide all coaches with mandatory certifications and player safety training. All coaches go thru a thorough national background check, and all head coaches are interviewed & evaluated each year. They are graded on performance and compliance with KYF® policies and values. We want to make sure all head coaches align with KYF ® core values and have the tools needed to provide quality fundamental football instruction to your children. This year we will take that one step further and require all KYF coaches (Head Coaches and Assistant Coaches) to go thru hands on player safety training, team management & leadership training and other team building exercises. We will be teaching all football coaches the new Heads Up Football initiative driven by the NFL. At KYF®, Player Safety Always comes first!
Team assignments are based on grade, age and school. All games are played on Saturdays at the Seven Lakes Complex. Registration for football players includes complete uniform of home and away jerseys, pants, mouthpiece and NFL team helmet decal (tackle players only). Some of the NFL teams represented are the Bears, Broncos, Buccaneers, Cardinals, Colts, Cowboys, Dolphins, Falcons, Giants, Jets, Packers, Patriots, Ravens, Saints, Steelers, Texans and Titans just to name a few. Don't miss out!
The Regular Registration rate is currently 
$175 
and will be offered until June 30th. 
Starting July 1st
, Late Registration will begin with the rate of 
$200
. These rates apply to football players in 1st through 6th grade tackle.